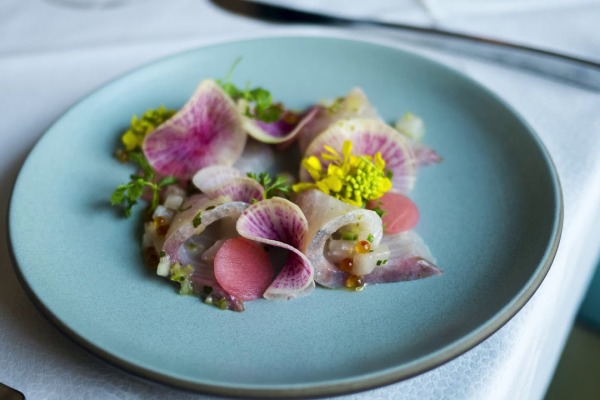 February 27, 2019
Student cooking competition and scholarship fundraiser kicks off in March 2019 with Culinary Arts and Hospitality Students
The Culinary Clash, a student cooking competition and scholarship fundraiser, returns to the InterContinental San Francisco's Luce and InterContinental Mark Hopkins' Nob Hill Club starting on March 2. This year, the hotels are pleased to announce a new partner - the Culinary Arts & Hospitality Studies Department at City College of San Francisco (CCSF).
The Culinary Clash first launched in 2012 at Luce as an opportunity for Bay Area culinary students to not only take over a restaurant kitchen for an evening, but also compete for scholarship monies. In addition to this year's competition, a portion of each menu sold will go to the Chuck Williams, Williams-Sonoma Foundation Scholarship Fund. To date, the Culinary Clash has raised more than $55,000 for local scholarships with previous participants going on to open their own restaurants and work in Michelin star restaurants, for example.
"We are so excited to be part of the Culinary Clash this year and offer this unique opportunity to our students," says Lorna Shea, CCSF Program Advisor for the Culinary Arts and Hospitality Department. "We offer a lot of hands-on education as part of our curriculum, and the Culinary Clash gives them real world experience in a competitive, fast-paced environment and an opportunity to mentor with some top culinary talent."
The Culinary Arts and Hospitality Studies Department at CCSF was founded in 1936 and is one of the longest running culinary programs in the country. Its graduates have gone on to own and operate renowned restaurants in the Bay Area and include Jeff Hanak (Nopa, Nopalito, Liholiho Yacht Club), Belinda Leong (b. Patisserie) and Sam Mogannam (Bi-Rite).
How it Works
CCSF students are invited to submit menus and recipes to their advisors and the hotel team. They are asked to prepare them to fit within a particular price point and style to mimic a working kitchen environment. The selected students are then organized into teams of two and work closely with Chef Daniel Corey from Luce or Chef Chad Bayless from Nob Hill Club on refining their menu and executing it for their night of service. Page 2 of 3 Culinary Clash dinners include an appetizer, entrée, and dessert as well as an optional wine pairing featuring Ziata wines by Karen Cakebread and Neyers Vineyards – both in Napa Valley. The three-course menu is $40 per person and an additional $25 for the wine pairing, excluding tax and gratuity. Menus are judged by a panel of hotel executives, local tastemakers and influencers, and food writers, as well as guests of each restaurant that evening. Winners are announced in late March.
About InterContinental San Francisco
The InterContinental San Francisco opened in February 2008 at Howard and 5th streets next to Moscone West Convention Center. The hotel towers 32 stories above the heart of the City and features 550 rooms, 14 suites, 43,000 sq. ft. of flexible meeting space with natural light, the Michelin-starred Luce restaurant, Bar 888, full-service fitness center, and an indoor pool. InterContinental San Francisco received its LEED EBOM Gold certification from the U.S. Green Building Council in 2011. For more information and to make reservations, contact the InterContinental San Francisco, 888 Howard Street, San Francisco, Calif. 94103, at 415-616-6500 or 888-811-4273 or by visiting www.intercontinentalsanfrancisco.com.
About InterContinental Mark Hopkins
Located on the top of prestigious Nob Hill at the intersection of California and Mason Streets, the InterContinental Mark Hopkins, a historic landmark, is a regular stop on the California Street cable car line. Just minutes away from the financial and theatre districts as well as Union Square and Chinatown, this four-star, four-diamond hotel is also home to the Top of the Mark, the world-renowned 19th floor sky lounge that offers panoramic views of the San Francisco Bay Area. For more information and to make reservations, contact the Mark Hopkins, Number One Nob Hill, San Francisco, Calif. 94108, at 415-392-3434 or 800-NOB HILL (662-4455), or by visiting http://www.intercontinentalmarkhopkins.com.
About InterContinental Hotels & Resorts
InterContinental Hotels & Resorts has 200 hotels located in more than 60 countries with local insight that comes from over 70 years of experience. As a brand, we believe that superior, understated service and outstanding facilities are important, but what makes us truly different is the genuine interest we show in our guests. Our desire is to help guests make the most of their time. We connect our well-traveled guests to what's special about a destination, by sharing our knowledge, so they enjoy authentic experiences that will enrich their lives and broaden their outlook. For more information about the InterContinental Hotels & Resorts brand, visit www.intercontinental.com. Find us on Twitter, Facebook or Instagram.
iCal
2022-12-06 19:05:41
2022-12-06 19:05:41
Title
Description
Location
CCSF
info@kwallcompany.com
America/Los_Angeles
public